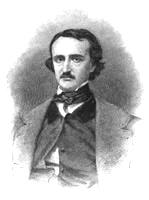 Engraving of the "Whitman" Daguerreotype of Edgar Allan Poe.
This engraving of Edgar Allan Poe, by Robert Anderson, was used as the frontispiece of John H. Ingram's edition of The Works of Edgar Allan Poe, Edinburgh, 1874-1875. It is based on the daguerreotype that belonged to Poe's one-time fiancee and long-time supporter, Sarah Helen Whitman. The original daguerreotype, presumed to be taken in 1848, is currently in the collection of the Brown University Library.
Writing to J. H. Ingram on March 16, 1874, Mrs. Whitman explained, "This picture of mine has been hidden away all these years because I thought it did not represent him truly, but many persons who have seen it lately think it has the best expression of any picture yet taken of him" (reprinted in Miller, Poe's Helen Remembers, p. 79).
Poe wears here the same greatcoat as in the McKee daguerreotype of about 1843. Describing Virginia Poe in the final days of her illness in 1847, Mary Gove Nichols wrote, "She lay on the straw bed, wrapped in her husband's great-coat . . ." ("Reminiscences of Edgar Allan Poe," 1863, reprinted by T. O. Mabbott, 1931, p. 12).