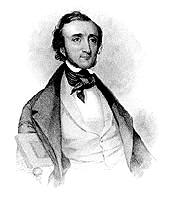 Steel engraving of Edgar Allan Poe from Graham's Magazine, February 1845.
This engraving of Edgar Allan Poe, made in 1844 by Thomas B. Welch and Adam B. Walter, was published in Graham's Magazine, Feb. 1845. It accompanied an article about Poe by James Russell Lowell.
The engraving is based on a watercolor by A. C. Smith, presumably done in 1843 or 1844 in Philadelphia. On March 30, 1844, Poe wrote to J. R. Lowell, "You inquire about my own portrait. It has been done for some time now — but is better as an engraving, than a portrait. It scarcely resembles me at all" (Ostrom, Letters, p. 246).
In reviewing the February number of Graham's, Charles F. Briggs wrote of the engraving that it was, "something which is called a portrait of Edgar A. Poe. It is poor as a work of art, and something much worse as a portrait. It is a gross wrong to Mr. Poe, and a fraud upon the purchasers of the Magazine" (quoted in Deas, Portraits, p. 22).