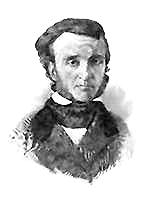 Engraving based on the "McKee" daguerreotype of Edgar Allan Poe.
This engraved portrait of Edgar Allan Poe was done by R. G. Teitze. It was published in the Century Magazine, September 1894. It shows the "McKee" Daguerreotype, presumably taken about 1843.
The original daguerreotype was last seen in February of 1905, when it was offered for auction in New York. An unidentified buyer paid $21 (Deas, Portraits, p. 15).