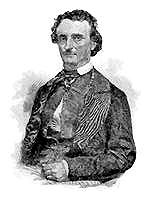 Engraving of the "Traylor" daguerreotype of Edgar Allan Poe.
This engraving of Edgar Allan Poe was published in the Century Magazine for October of 1894. It reproduces the daguerreotype owned by Robert Lee Traylor. It was originally owned by Poe's fiancee, Sarah Elmira Shelton. This daguerreotype, and a very similar one known as the "Thompson" Daguerreotype, were taken in the studio of William A. Pratt in Richmond, Virginia, probably in September of 1849 (Deas, Portraits, p. 58).
The "Davidson" portrait, used as the frontispiece for S. S. Rice's Edgar Allan Poe: A Memorial Volume (Baltimore: Turnbull Brothers, 1877), is a greatly modified copy of this photograph.
The original daguerreotype, which has been badly spoiled by an ill-considered attempt at cleaning, is currently owned by the Poe Foundation in Richmond.