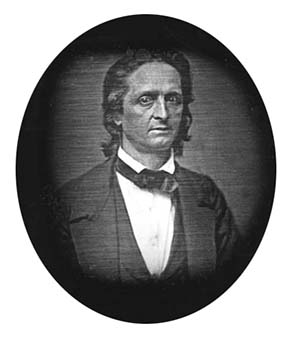 Rev. Cotesworth P. Bronson
(Born: May 23, 1800 - Died: June 12, 1866)
Charles Cotesworth Pinckney Bronson was born in Litchfield, Connecticut. (His name is generally given as Cotesworth P. Bronson, or more simply as C. P. Bronson.) His first wife, Nancy Sibley, died on September 14, 1827, of "billious remittent fever" at the age of 28 (recorded in the Mansfield Gazette and Richmond Farmer) . He married Elizabeth (Betsy) Banning on March 4, 1828, and they had three children (including a daughter who died in infancy). He attended Middlebury College, in Middlebury Vermont, 1823-1826, but apparently did not graduate (see Catalogue of the Officers and Students of Middlebury College, 1800-1915, p. 83, where it states that he "entered from Columbia, OH.). About October 1826, he moved to Norwalk, OH., where, by the end of that year, he was the head of the newly opened Norwalk Academy (with four male and one female teacher, and one hundred students). He left the academy in May 1828 (see History of the Western Reserve, 1:430-431).
Originally listed as a Deacon and Missionary for the Episcopal church, by 1829, he was an ordained Episcopalian minister, serving at St. Paul's Church in Norwalk, OH. (noted in the Episcopal Watchman, June 1829, 3:103). The records of the parish cease to mention Bronson after March 1830 (see History of Knox County, p. 413). In 1832, he was "suspended from the excercise of the Ministry" (Journals of General Conventions of the Protestant Episcopal Church). The introductory information in his Elocution, or, Mental and Vocal Philosophy (1845) suggests that he was struck by some physical disorder that made speech difficult for him, a severe nervous studder or something even more serious, which in the absence of other sources might be presumed as the cause of his suspension. The Journal of the Proceedings of the Thirteenth Annual Convention of the Protestant Episcopal Church in the Diocese of Ohio (1830), preserves a letter from the diocese to Rev. Bronson, noting the charges as "unjustly withholding and appropriating to your own use, monies collected to build churches in Ohio" and unspecified "falsehood" (see the first item in the appendix). In this same year, he joined William P. Reznor as an editor of the Western Aurora or Mount Vernon Gazette. This newspaper folded in 1835, but it had already been purchased by Daniel Stone in October 1833, and at this time, Bronson seems to have left for other opportunities. An imprint at the American Antiquarian Society of "Elocution & Music, C. P. Bronson, author" bears a handwritten date of 1841, but begins "Preface to the second edition" and is dated as Cincinatti, 1836, suggesting that Bronson was already well-launched on his new career on the speaking circuit.
Following a series of successful lectures and demonstrations of elocution, he published Abstract of Elocution and Music (1842) and Elocution, or, Mental and Vocal Philosophy (Louisville: Morton and Griswold, 1845). He died in New York City. After his death, his papers were edited by Laura M. Bronson, and published as A Manual of Elocution (Louisville: John P. Morton and Co., 1873).
He is credited as having inspired Poe to write "Ulalume" (see Poe to C. P. Bronson, about Oct-Nov. 1847). His daughter, Mary Elizabeth Bronson, married William Gates Le Duc, of Hastings, Minnisota, on March 25, 1851. Mrs. Le Duc wrote a brief but charming reminisence of Poe in the Home Journal, July 21, 1860 ("Recollections of Edgar A. Poe," with a byline of "Mrs. — ——," reprinted by Carroll D. Laverty in American Literature, May 1948).