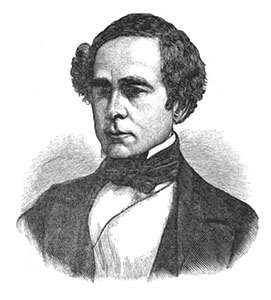 (Born: May 1, 1807 - Died: July 11, 1878)
American educator, editor and historian, specializing in the history of Virginia before the Revolutionary War. He was born in Petersburg, VA, the oldest child of John Wilson Campbell and Mildred Walker Moore. (His father was also a historian, and owned a bookstore. His mother was a teacher.) He studied at the College of New Jersey (now Princeton) in 1823-1825. After graduation, he initiated law studies in Winchester, VA, but found that the demanding efforts required gave him chronic headaches and caused mental exhaustion. Retreating from a life in law, he took a job as an engineer for the Petersburg Railroad, and ran a private school for boys in Glencoe, AL. He married Elvira N. Callaway (1819-1837) on September 13, 1836. She died following the birth of their only child. He subsequently worked as a clerk in the office of the Collector of Customs in Petersburg. During 1840-1843, he was the owner, publisher and editor of a newspaper called the American Statesman (Petersburg, VA). In 1842, he resumed teaching, continuing in this vein until 1870. He married for a second time in 1850, to Anna Birdsall, and they had four children. In 1873, Campbell was committed to the Western Lunatic Asylum at Staunton, VA. He died there and is buried at Blandford Church Cemetery, Petersburg, VA.
His most important work is History of the Colony and Ancient Dominion of Virginia (Philadelphia: J. B. Lippincott & Co., 1860). A collection of his papers may be found in the Earl Gregg Swem Library of William & Mary College.