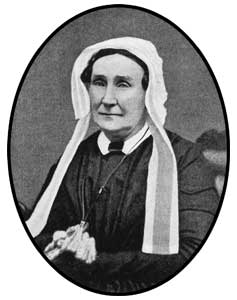 (Born: March 17, 1790 - Died: February 16, 1871)
Poe's aunt and, after he married his cousin Virginia, his mother-in-law. Poe called her "Muddy." Although there is some debate as to whether or not she was a positive influence on Edgar, there seems no doubt that she cared for him like a son and that Poe certainly thought of her as a mother. The poem "To My Mother" (first published July 7, 1849) is clearly dedicated to her. In 1844, she apparently sold a bound volume of the Southern Literary Messenger Poe had borrowed from William Duane. Duane eventually managed to buy the book back through a series of deals, with his own signature still on the title page. Poe, however, continued to insist that Mrs. Clemm had returned it and his refusal to apologize to Duane caused a permanent rift in the friendship. Despite such difficulties, Sarah Helen Whitman recalled that "Poe always spoke of her with grateful and affectionate consideration. I believe that she loved him devotedly" (Ticknor, Poe's Helen, p. 171). She married William Clemm, Jr on July 13, 1817, becoming his second wife. William Clemm died on February 8, 1826. They had three children: Henry (born September 10, 1818), Virginia Marie (born August 22, 1820) and Virginia Eliza (born August 13, 1822). Virginia Marie died in infancy, only a few months after the birth of Virginia Eliza, who ultimately become Poe's wife.
Mrs. Shew, in 1875, described her as "You see she [Mrs. Richmond] speaks bitterly of Mrs. Clemm, who was like a cat, often, treacherous and cruel. She had a hard side to her nature like many Southern persons, who are, or have been brought up with slaves as servants and associates in childhood." (Mrs. Shew to J. H. Ingram, March 28, 1875).
After Poe's death in October of 1849, Mrs. Clemm was left without any source of income. She survived largely from the generosity of Poe's friends and admirers. Among those who sent her small sums were Henry W. Longfellow and Charles Dickens.
She claimed that she had burned hundreds of letters written to Poe by various literary women. Griswold had apparently offered her $500 for the letters of Frances S. Osgood. She did this act to avoid any possibility that "by poverty [I might] be induced to do anything so dishonorable " (Maria Clemm to Neilson Poe, Aug. 26, 1861).
This photograph, one of the only two known, is from a daguerreotype originally owned by Annie Richmond and sent to John H. Ingram in 1876. It was probably taken in Lowell, MA in 1849. The second, reprinted in E. L Didier's The Poe Cult and Other Papers, shows her in 1868, considerably more aged but wearing a remarkably similar dress.
Where did Mrs. Clemm live after Poe's death?
Mrs. Shew, now Mrs. Houghton, wrote to Mrs. S. H. Whitman on May 20, 1875: "Did you see Mrs Clemm after she went to Lowell the last time? She left my house in the spring of /52, as I removed west at that time She not wishing to go with us, immediately. Mrs. Clemm spent the winter, and part of the summer of 1850 with us, and the winter of 1851, when she went to Lowell again." (see Miller, Poe's Helen Remembers, p. 296).
On March 30, 1874, Mrs. S. H. Whitman wrote to J. H. Ingram: "I enclose the first letter I ever received from Mrs. Clemm. It is dated from Lowell, & was written 19 days after Edgar's death. She was then visiting Mrs. Charles Richmond in Lowell. When I next heard from her she was in New York, but returned, I think, the following winter to Lowell. She subsequently passed some time, I think, in the family of Mr. W. Strong, Milford, Conn. Some years afterward she lived for a time with Mrs. Lewis" (see Miller, Poe's Helen Remembers, p. 99).
In 1852, Mrs. Clemm was indeed living in Milford, CT, with the family of William Strong. (see her letter of Nov. 7, 1852 in Miller, Building Poe Biography, pp. 40-41)
On May 27, 1875, Mrs. S. H. Whitman wrote to J. H. Ingram: ". . . I looked among Mrs. Clemm's earlier letters for dates of her residence with Mrs. Lewis. In Dec. 1854 I find a letter from Mrs. MacCready, the actress & elcoutionist, who brought credentials to me from Mrs. Clemm in the autumn of that year. She says under date Dec. 8, 1854, 'I have passed, since my return, two or three evenings with dear Mrs. Clemm at the house of Mrs. Lewis.' etc., etc." (see Miller, Poe's Helen Remembers, p. 296).
About 1857, it appears that Mrs. Clemm was living with Mrs. S. A. Lewis (see the first postscript of the April 9, 1875 letter of Mrs. Shew, by this time Mrs. Houghton, in Miller, Building Poe Biography, pp. 127-131). Mrs. S. H. Whitman wrote to J. H. Ingram on Feb. 16, 1874: "In the Winter and Spring of 1858 Mrs. Clemm resided for a time with Mr. & Mrs. Lewis in Lafayette Place (I think) in New York. Mr. and Mrs. Lewis separated soon after, & Mrs. Clemm, having, I believe, taken part with Mr. Lewis against the lady, was made very uncomfortable & wrote me that he situation as a guest in the house was becoming very embarrasing. She left them soon after Mrs. Lewis went abroad" (see Miller, Poe's Helen Remembers, pp. 28-29).
In 1859, Mrs. Clemm was living in Alexandria, VA. (see her letters of April 14, 1859, August 19, 1860 and August 26, 1860 in Miller, Building Poe Biography, pp. 41-54). On May 27, 1875, Mrs. S. H. Whitman wrote to J. H. Ingram: "In 1858 Mrs. Clemm was still living with Mrs. Lewis & had only recently left forthe home of friends in Alexandria when Mr. Davidson & I called on Mrs. Lewis at her home on Irving Place, New York, but did not find her at home" (see Miller, Poe's Helen Remembers, p. 296).
By June 29, 1861, Mrs. Clemm was living in Putnam, OH, in the home of Sallie E. Robins (see her letter of this date in Miller, Building Poe Biography, pp. 54-55). Miss Robins had devoted herself to the task of writing a biography of Poe, but was overcome by fits of madness and confined in an asylum in 1861. At this point, Mrs. Clemm was left without a clear means of support. By the Spring of 1863, she had returned to Baltimore, where she hoped to be admitted to the Baltimore Widow's Home. Unable to procure the $150 fee, she instead became a resident of the Episcopal Church Home, which had taken over the building in which Poe died in 1849.
A note from the Daily National Intelligencer (Washington, DC), states: "DICKENS, it is reported, has sent $1,000 to Mrs. Clemm, the mother-in-law of Edgar A. Poe, who is an inmate of a charitable institution in Baltimore, and has been for years in extremely indigent circumstances." (Tuesday, February 4, 1868).