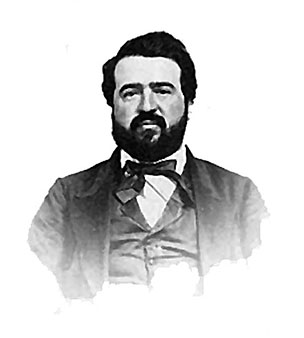 (Born: December 29, 1828 - Died: January 28, 1898)
Born in Philadelphia. Sailed for the Northwest on Aug. 14, 1851, where he became the deputy clerk to the collector of Puget Sound. He was, by profession, a lawyer. He was an active member of the Freemasons. He died at Tacoma, WA.
In the 1840s, he was an avid collector of autographs, particularly of abolitionists.
He married Elzira P. Gove on January 1, 1856.
He was mayor of Olympia, WA, 1859-1861. During 1865, he acted as governor of the territory. He joined the Washington State Historical Society in 1891, and served as its first president.
He was the author of History of the Pacific Northwest Oregon and Washington; embracing an account of the original discoveries on the Pacific coast of North America, and a description of the conquest, settlement and subjugation of the original territory of Oregon, also interesting biographies of the earliest settlers and more prominent men and women of the Pacific Northwest, including a description of the climate, soil, productions of Oregon and Washington, Portland, OR: North Pacific History Co., 1889.