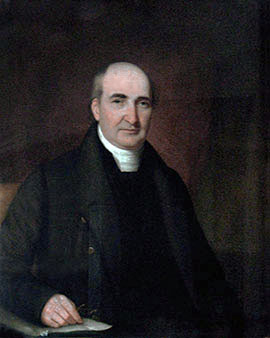 (Born: 1775 - Died: August 14, 1854)
Lawyer and editor. He was born in Ireland. His father was John Gwynn. William Gwynn was brought to the US as a child, and settled in Baltimore, where he later served as editor of the Baltimore Gazette. He was the first Vice President of the Hibernian Society of Baltimore. His modest Greek Revival mansion, called Tusculum, stood on Bank Lane (behind Barnum's Hotel, near the War Memorial), and served as the meeting place of the Delphian Club. (The house was demolished in 1891.) He died in Harford Country, MD. Edgar's father, David Poe, briefly studied for the law in the offices of William Gwynn, and Edgar's cousin, Neilson Poe, was at one time an assistant editor to Gwynn.
He never married, but appears to have adopted a young man, who changed his name to William Gwynn Jones. He sold his interest in the Gazette to Jones on June 21, 1834, with Jones then assuming the title of editor and proprietor, although his career was short-lived. On May 24, 1835, Jones was caught robbing the local post office. He was ultimately convicted of theft and sentenced to the Maryland penitentiary. He was pardoned about 1841. After Jones was imprisoned, William Gwynn resumed control over the Gazette, but ceased publication on December 30, 1837.