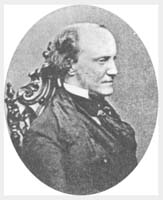 (Born: August 23, 1813 - Died: March 30, 1874)
American lawyer, author and poet. Hirst, with Poe's assistance, was the author of the biographical article published in the Philadelphia newspaper the Saturday Museum for February 25, 1843. So popular was the article that it was reprinted on March 4, 1843. This article is full of misleading information and as such is of value mostly as a curiosity.
At one time, Hirst ran a store for exotic birds, and owned a pet raven (Mabbott, Poems, p. 355). Hirst contributed poems to the Southern Literary Messenger, The Broadway Journal and other periodicals.
Hirst wrote a parody of Poe's "The Haunted Palace" called "The Ruined Tavern," which apparently enraged Poe (Woodberry, Life of Poe, 1909, p. 420).
Poe reviewed Hirst's collection of poems The Coming of the Mammoth (1845).
Another notice of Hirst by Poe was included by Griswold in volume III of The Works of the Late Edgar Allan Poe (p. 212). This article, which Poe may have intended should never be published, he accused Hirst of plagiarism in the poem "Penance of Roland."
In his later years, Hirst became quite insane.
Hirst's collections of papers, sold by the Anderson Gallery on May 11, 1921, included manuscripts for Poe's poems "Eulalie" (1844) and "Annabel Lee" (1849). The "Annabel Lee" manuscript is now in the Henry E. Huntington Library.