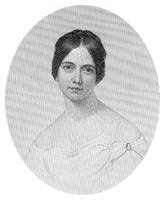 Mrs. Frances Sargent Osgood
This engraving of Mrs. Osgood was used as the frontispiece for the edition of her poems published in 1850. It is based on a fine portrait made by her husband, Samuel Stillman Osgood, a well-known painter.
(Born: June 18, 1811 - Died: May 12, 1850)
Frances Sargent Locke Osgood was an American poet, essayist, and children's author who contributed voluminously to America's major literary magazines and published books on both sides of the Atlantic. She was the sixth of seven children born to Joseph Locke and his second wife, Mary Ingersoll Foster Locke (m. 1800).
Born just south of Boston in Hingham, Massachusetts, Frances Sargent Locke came of age surrounded by the social and educational advantages attendant upon her status as the daughter of a wealthy merchant. In accordance with that status, Osgood completed her early education under the oversight of the family's private tutor before rounding out her formal education at the Boston Lyceum for Young Ladies in 1828. A talented writer from a surprisingly young age, Frances began her career in her fifteenth year, when she published a poem under the pseudonym "Florence" in Lydia Maria Child's magazine for children, Juvenile Miscellany. She remained regularly in print for the rest of her life, throughout which she demonstrated her idiosyncratic love for pseudonyms by publishing alternatively under the names "Ellen," "Florence," "Kate Carol," and "Violet Vane" in addition to her own legal name.
In 1834, while visiting the holdings of the Boston Athenaeum in search of inspiration for a set of poems, Frances made the acquaintance of Samuel Stillman Osgood (1808-1885), an artist and adventurer then painting portraits at the Athenaeum. The high-spirited couple swiftly bonded over their mutual appreciation of art, and, following their marriage on October 7, 1835, the two immediately embarked on an artistic adventure of their own in England. Although the move was ostensibly undertaken to further Samuel Osgood's career, the relocation proved equally salubrious to Mrs. Osgood's art, and during the couple's four-year stay in England, she published her first and second collections of poetry, A Wreath of Flowers from New England (1838) and The Casket of Fate (1839), respectively. The verses in these volumes primarily oriented around questions of domesticity, sentiment, nature, and love in romantic, platonic, and familial varieties.
Her reputation thus firmly established, Mrs. Osgood and her husband returned to America in 1839, taking up residence in New York City. Here, she maintained a high pitch of productivity despite acting as primary caregiver for her two young daughters, Ellen Frances (b. July 15, 1836) and May Vincent (b. July 21, 1839). Between 1840 and 1845, she not only appeared as a regular contributor to The Ladies' Companion and Graham's Magazine, but also published seven books, five of which — most noticeably The Snow-Drop: A New Year's Gift for Children (1842) and The Flower Alphabet, in Gold and Colors (1845) — became popular children's readers. While Mrs. Osgood reaped these creative successes with her pen in New York City, Samuel Osgood resumed his roving habits, traveling across the country in search of subjects for his brush and spending little time with his wife and daughters. Although the exact terms of the couple's marriage throughout this time is impossible to determine definitively, contemporary observers interpreted the geographical separation as bespeaking an emotional separation, a fact they believed was reinforced by the various extramarital flirtations each party conducted.
In March 1845, Mrs. Osgood sought out introduction to Edgar A. Poe, who had reviewed her poetry favorably both in print and in his lecture series on American poetry. In the aftermath of this meeting, the poets acted on their mutual attraction by publishing a series of wistful poems to one another in the pages of the Broadway Journal, a magazine on which Poe then served as an editor and later as sole proprietor. This literary courtship continued through both public and private exchanges until fellow New York author Elizabeth Ellet intruded herself forcefully upon the situation. The results of this episode included not only a termination of the Poe-Osgood romance but also a falling out between Poe and several members of the New York City literary set.
Perhaps prompted by a desire to avert the lingering gossip surrounding this scandal, Mrs. Osgood briefly reunited with her husband in the summer of 1846 as they together relocated to Philadelphia — yet another publishing hub. In the period immediately succeeding her separation from Poe, Mrs. Osgood began to produce poetry of a slightly different vein. Her work, long noted for its effusiveness and melodic quality, now repurposed these traits to assume a tone of deeper melancholy and loss. This evolution of style can be imputed to the cacophony of troubles enclosing about Mrs. Osgood during this period. To the loss of Poe was joined the frustration of her deteriorating marriage, the threat of scandal in New York City, and the devastation of the loss of her infant child Fanny Fay just months after her birth in June 1846. These strains took their toll not only on Mrs. Osgood's emotional endurance, but also on her sensitive constitution, and shortly after her removal to Philadelphia Osgood began to display early symptoms of tuberculosis, the disease which, in that century, had only one end — death.
In the final years of her life, Mrs. Osgood — separated eternally from Poe and abandoned intermittently by her husband — found support from a surprising quarter: the editorial offices of Rufus Griswold, erstwhile rival of Osgood's earlier paramour, Poe. In a biographical sketch published after her death, Griswold gave hints towards his own devotion to Mrs. Osgood, describing her as having "an unfailing and indefectible grace" such as that "possessed only by her and the creatures of our imaginations whom we call the angels" (Griswold, Laurel Leaves, p. 17). Griswold transformed this abstract admiration into concrete assistance during Mrs. Osgood's lifetime, and between 1849 and 1850 he aided her in the preparation and publication of not one but three books. The third of these, Poems (1850), reached nearly 500 pages in length and consisted of over 220 poems, the last of which was a tribute to none other than the recently deceased Poe, with whom Griswold and Osgood formed such a strange triangle.
In the spring of 1850, Samuel Osgood reappeared in his wife's life for the last time, returning from the California gold rush flush with cash only to find her on her death bed. Remorseful over her condition, Osgood installed her in a new home where she expired only weeks later on May 12, 1850. After her death, her friends released a memorial volume, The Memorial: Written by Friends of the Late Mrs. Osgood and Edited by Mary E. Hewitt (1851), to raise funds for a magnificent headstone for her grave. Designed by Samuel Osgood, this marker featured a lyre as its dominant motif and drew its inspiration from a poem Osgood herself penned in tribute to Poe, a poem in which her friends espied a fitting description of her own genius and legacy:
The hand that swept the sounding lyre
With more than mortal skill,
The lightning eye, the heart of fire,
The fervent lip are still!
No more, in rapture or in wo,
With melody to thrill,
Ah! nevermore!
Oh! bring the flowers he cherish'd so.
With eager childlike care;
For o'er his grave they'll love to grow,
And sigh their sorrow there:
Ah me! no more their balmy glow
May soothe his heart's despair,
No! nevermore!
But angel hands shall bring him balm
For every grief he knew,
And Heaven's soft harps his soul shall calm
With music sweet and true,
And teach to him the holy charm
Of Israfel anew,
For evermore!
Love's silver lyre he play'd so well
Lies shatter'd on his tomb;
But still in air its music-spell
Floats on through light and gloom,
And in the hearts where soft they fell,
His words of beauty bloom
For evermore!
["The Hand That Swept the Sounding Lyre" in Osgood, Poems, New York: Carey and Hart, 1850, pp. 465-466]
Works Used for Research
De Jong, Mary G. "Frances Sargent Osgood." In Antebellum Writers in New York: Second Series, edited by Kent P. Ljungquist. Dictionary of Literary Biography Vol. 250: Gale, 2002.
——. "Her Fair Fame: The Reputation of Frances Sargent Osgood, Woman Poet Authors." Studies in the American Renaissaince (1987): 265-83.
——. "Read Here Thy Name Concealed': Frances Osgood's Poems on Parting with Edgar Allan Poe." Poe Studies 34, 1-2 (2001): 27-40.
Dobson, Joanne. "Sex, Wit, and Sentiment: Frances Osgood and the Poetry of Love." American Literature 65, no. 4 (Dec. 1993): 631-50.
Griswold, Rufus Wilmot, ed. "Frances Sargent Osgood." In The Female Poets of America, 272-73. Philadelphia: Carey and Hart, 1844.
——. "Frances Sargent Osgood." In The Memorial: Written by Friends of the Late Mrs. Osgood and Edited by Mary E. Hewitt, edited by Mary E. Hewitt, 13-30. New York: George P. Putnam, 1851.
Osgood, Frances Sargent. Poems. New York: Riker, Thorne & Co., 1850.
Phillips, Elizabeth. "Frances Sargent (Locke) Osgood." In American Women Writers: Vol. 3, edited by Taryn Benbow-Pfalzgraf, 233. Detroit, MI: St. James Press, 2000.
Poe, Edgar Allan. "Frances S. Osgood." In The Complete Works of Edgar Allan Poe: Volume XV: Literati & Autography, edited by James A. Harrison, 94-105. New York, N. Y.: AMS Press, 1965.
Quinn, Arthur Hobson. Edgar Allan Poe: A Critical Biography. New York, NY: D. Appleton-Century, 1941.
Silverman, Kenneth. Edgar A. Poe: A Biography. New York, NY: Harper Perennial, 2009.
Watts, Emily Stipes. "Osgood, Frances Sargent Locke (1811-1850), poet and editor." American National Biography. 1 Feb. 2000.
This capsule biography was contributed to the Poe Society by Percy Verret, Middle Tennessee State University