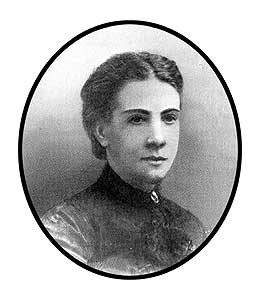 (Born: February 14, 1822 - Died: April 7, 1917)
American poet and author. (The year of her birth is sometimes given as 1835, including in Appleton's Cyclopedia, published in 1889, but apparently in error. A highly plausible case has also been presented that she was born about 1830, based in part on her claim that she first read Poe's poem "Bridal Ballad," published in the Southern Literary Messenger in January 1837, when she was seven. She is also said to have moved to Talavera, built in 1838, when she was 8 years old. Mary Forrest, in Women of the South Distinguished in Literature, 1861, p. 311, states that she was eight when her father moved to Richmond, VA. The same source, pp. 312-313, says that she was 16 when the first of her poems appeared in the pages of the Southern Literary Messenger. Griswold, in his Female Poets of America, p. 311, says that she was "about seventeen" when her poems first appeared there. Her poem "The Spirit of Beauty" appeared in the issue for April 1845, signed "Susan, Richmond." Sadly, many people in this era were quite free with their birthdates, including Poe.) She became Mrs. S. A. T. Weiss in 1863, having married Louis Weiss. (Appleton's says that he was named von Weiss, and was a German officer, who died in 1869). Eventually, she sued for divorce and retained custody of their only child, a son, Stuart Archer Weiss 1863-1947). During the Civil War, she served as a spy for the confederate forces. She was captured in April 1862 trying to smuggle percussive caps into Richmond, in a coffin she claimed contained the body of her brother. She was arrested and held in Fort McHenry, in Baltimore, for about two months.
Her father was Thomas Talley, and her mother Eliza Frances Archer.
She was buried in Riverview Cemetery, in Richmond, VA.