Last Update: July 23, 2003 .Navigation:. Main Menu .. Poe's Essays
[Plate accompanying, "Harper's Ferry," from Graham's Magazine, February 1842.]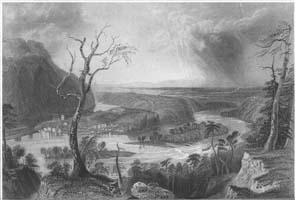 This engraving is the frontispiece for the issue, facing page 73, which carries the text for "Harper's Ferry" as the first article. The picture is oriented sideways on the page. Beneath the left corner of the picture is the name "W. H. Bartlett" and beneath the right corner "A. L. Dick." William Henry Bartlett (1809-1854) was the illustrator of N. P. Willis's American Scenery, or, Land, lake, and river illustrations of transatlantic nature (London: George Virtue, 1840, 2 vols. with 121 steelplate engravings, published serially in 30 parts, with printed paper covers). Centered under the picture, the caption reads:
"HARPER'S FERRY.
(from the Blue ridge)
Engraved expressly for Graham's Magazine"
~~~ End of Text ~~~