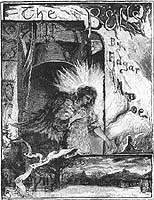 Illustrated title page for an elaborate gift edition of 'The Bells" (about 1881).
There are numerous editions of Poe's works, many with ornate decoration and illustration. The title page shown here (left) is from a fancy printing of Poe's "The Bells," issued by Porter and Coates around 1881. This particular book was issued in a vellum cover with ruffled and gilt edges, featuring hand lettered title and ornamentation. Many reprints and variations are known, testifying to Poe's commercial popularity.
Probably the most famous illustrations for Poe's works are those by Gustave Dore (1884), Harry Clarke (1919), Edmund Dulac (1912) and Arthur Rackham (1935). Although often very attractive, most illustrated editions after 1900 have relatively little financial value, depending primarily on condition, the quality of the illustrations and the binding.
(The selected examples displayed here are reproduced, with permission, from a private collection.)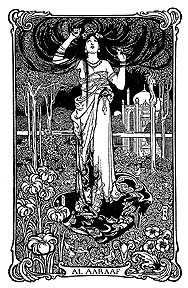 Illustration for "Al Aaraaf" by W. Heath Robinson, The Poems of Edgar Allan Poe, London: George Bell & Sons, 1902.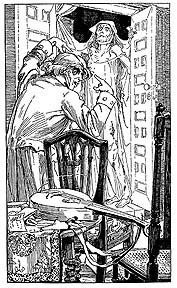 Roderick Usher sees Madeline in the climactic finale of "The Fall of the House of Usher" in an illustration by Alice B. Woodward, Prose Tales, New York: Grosset & Dunlap, 1903.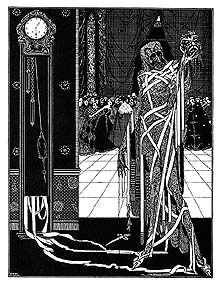 Illustration by Harry Clarke for "The Masque of the Red Death," Tales of Mystery and Imagination, London: George P. Harrap, 1919.