"The Raven" has long been Poe's most popular poem, and thus no special explanation is required to justify its status as his most illustrated work as well. Unlike "The Bells," which was extremely popular a century ago, during the era of public recitations, but has diminished somewhat over the years, "The Raven" has retained its high status with generation after generation of new readers. It has also enjoyed the attention of some of the most prominent illustrators of the last 150 years, including F. O. C. Darley, Sir John Tenniel (best known today for his Alice in Wonderland illustrations), Gustave Dore (perhaps best remembered for his Bible illustrations), Edmund Dulac, and Eduard Manet.
(The selected examples displayed here are reproduced, with permission, from a private collection.)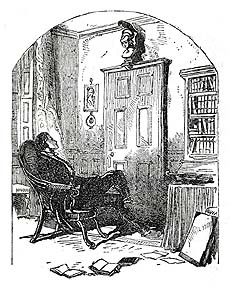 The earliest illustration for "The Raven," published in England in 1852. The artist is not identified.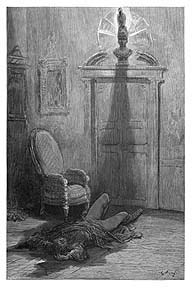 Illustration by Gustave Dore, 1884, showing the scene in the final stanza of the poem.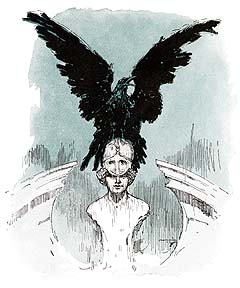 Illustration by John Rea Neill, 1910. Neill is best known for his illustrations for the Oz books.