BURIED EDGAR A. POE.
The Minister Who Officiated at the Funeral Still Living.
Of the handful of people who witnessed the burial of Edgar Allen [[Allan]] Poe in the old Westminister Presbyterian churchyard, at the corner of Fayette and Greene streets, it Baltimore, on that dreary day in October, 1849, three only are living. One of these is the Rev. W. T. D. Clem [[Clemm]], of the Methodist church. Mr. Clem [[Clemm]] lives in a pretty little cottage, which in the summer time is nearly hidden in flowers, out on the York road, near the Govanstown toll-gate, leading to Baltimore.
Poe died in a private hospital, owned and conducted by the late Dr. Moran, October 7, 1849. The building is on the west side of North Broadway, near Baltimore street, and is at present used as a home under the auspices of the Protestant Episcopal church. The Rev. Mr. Clem [[Clemm]] denies the statement made by Moran in lectures upon Poe after his death that seventy locks of hair were cut from the head and distributed among the great crowd present. "As a matter of fact," says Dr. Clem [[Clemm]], "the coffin was not opened at the grave; there was not a great crowd present, and I do not believe a single hair was cut from his head. The lid was taken from the coffin at the hospital, where the funeral service took place, and I was particularly struck with the jet-black locks, which were adjusted with care over the expansive forehead.
"Poe had been for several months prior to his coming to Baltimore the last time abstemious in his habits and free from the follies that had heretofore characterized his life. He was on his way to Philadelphia to get married. His first wife, my cousin, Virginia Clem [[Clemm]] had died in Westchester, Fordham country, New York, where Poe had a cottage, in January, 1848 [[1847]]. The lady who was to have been his second wife had a considerable fortune. The day of their marriage had been set for October 2, 1849. Poe came to Baltimore from Richmond on the Norfolk line of steamers. On landing here was met by one or more of his friends, and was by their persuasions induced to take a glass of whisky. This aroused his latent desire for drink, and no persuasions could get him to stop indulging in intoxicants. He was handsomely clad and was possessed of a valuable wardrobe packed away in a traveling trunk.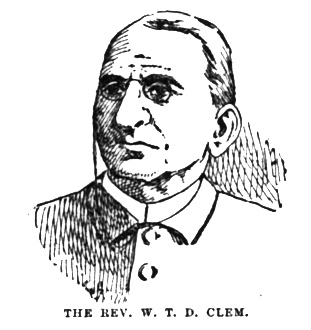 "During the terrible debauch he lost his trunk and all his clothes. What he wore were soiled, and he had on an old straw hat which Dr. Moran said no one would have picked up in the street. In this sad and repulsive plight he was found and taken to Dr. Moran's hospital. He was laboring under a terrible attack of mania a potu, and during its continuance had one abort lucid interval, and exclaimed: 'Dr. Moran, give me a pistol, that I may blow my brains out.' He then relapsed, and in a short time died.
"I had prepared a short address which I intended to deliver at the funeral of Poe. I truly expected to see a large gathering at the obsequies. I was amazed when I walked into the hospital the afternoon of the funeral to see the large hall where the coffin was placed almost deserted. There were only the inmates of the hospital present and five or six other persons. I did not deliver the address I had prepared for the occasion, but simply conducted a short service. Poe was decently clad in black and placed in a mahogany casket. His countenance was expressive of perfect peace there being no evidence of the awful death he had died. The funeral cortege consisted of only a hearse and a hack. The hack was occupied by the late Neilson Poe, father of Attorney General John P. Poe; Z. Collins Lee, a distinguished lawyer of Baltimore; Henry Herring, a prominent lumber dealer, and myself. We were the only ones who followed the body to its last resting-place. I merely read the burial service of the Methodist Episcopal church at the grave. Then the coffin was lowered into the earth."