NAMES of the PHRENOLOGICAL ORGANS
referring to the figures indicating their RELATIVE POSITION.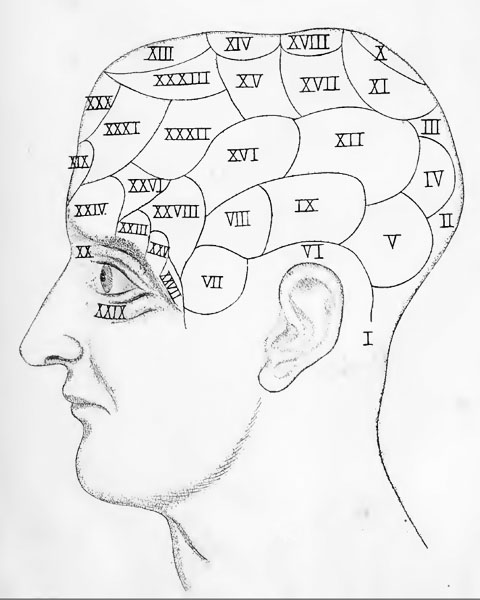 Phrenological Bust, 1824

Charles Caldwell's Elements of Phrenology (Lexington, Kentucky: T. Skillman, 1824)
A. Propensities.
I. Amativeness
II. Philoprogenitiveness
III. Inhabitiveness
IV. Adhesiveness
V. Combativeness
VI. Destructiveness
VII. Constructiveness
VIII. Covetiveness
IX. Secretiveness
B. Sentiments
X. Self esteem
XI. Love of Approbation
XII. Cautiousness
XIII. Benevolence
XIV. Veneration
XV. Hope
XVI. Ideality, Wonder
XVII. Conscientiousness
XVIII. Firmness
C. Intellect.
XIX. Individuality } 1. or higher / 2. or lower
XX. Form
XXI. Size
XXII. Weight
XXIII. Colouring
XXIV. Locality
XXV. Order
XXVI. Time
XXVII. Number
XXVIII. Tune
XXIX. Language
XXX. Comparison
XXXI. Causality
XXXII. Wit
XXXIII. Imitation