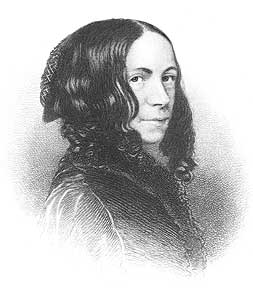 Miss Elizabeth Barrett Barrett.
(Born: March 6, 1806 - Died: June 30, 1861)
English poet. Elizabeth Barrett Moulton-Barrett was born at Coxhoe Hall, County Durham, England, one of the twelve children of Edward Moulton-Barrett and Mary Graham Clarke. (J. H. Ingram erroneously gives her birth year as 1809, the same year that Poe was born.) Her family was quite wealthy, her father owning several Jamaican sugar plantations. Her mother died in 1828. In the 1830s, a number of financial setbacks cost her father much of his fortune, and they were forced to sell his grand estate of Hope End and move into more modest accomodations, eventually settling in London, at 50 Wimpole Street. She moved briefly to Torquay, on the coast of Devonshire, with the hope of improving her health, but by 1838 had moved back to Wimpole street, where she was effectively an invalid and recluse for the next five years. Her first volume of poetry, An Essay on Mind, was published anonymously in 1826. Prometheus Bound followed in 1833, also published anonymously. In 1838, she printed The Seraphim and Other Poems, the first volume of her work to appear with her actual name.
Miss Barrett married Robert Browning in September 1846, becoming Elizabeth Barrett Browning, the name by which she is generally recognized today. For marrying against the wishes of her possessive father, she was disinherited.
Poe reviewed her book The Drama of Exile and Other Poems, published in 1844, in the Broadway Journal early in 1845. Included in this collection was "Lady Geraldine's Courtship" from which he borrowed the meter and rhyme scheme for "The Raven." Partially acknowleding the debt, he dedicated his own collection The Raven and Other Poems (Wiley & Putnam, 1845) to her.