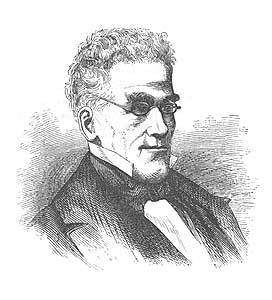 George Bush
(Born: June 12, 1796 - Died: September 19, 1859)
George Bush was an American professor of Middle Eastern literatures and a Presbyterian-turned-New-Church minister who published theological works in the mid-nineteenth century. He was the last of four children born to John Bush and Abigail Marvin (m. 1785).
The son of a Princeton-educated linguist, George Bush spent his earliest years immersed in the culture he would later reproduce in his own life-one suffused with language, learning, and books. Though born in Norwich, Vermont, Professor Bush spent the majority of his childhood in the university city of Hanover, New Hampshire, where his father relocated the family after the untimely death of Abigail at the turn of the century. Here young George found ample opportunity to cultivate his interest in learning, and he occupied much of his childhood toting hefty volumes to and from Dartmouth's well-provisioned college library, to which he had been granted access. Although of a non-religious family, he encountered Christianity in his extensive readings and, upon his graduation from Dartmouth College in 1818, he enrolled in Princeton's prestigious Theological Seminary. In the wake of his graduation from Princeton and subsequent ordination to the Presbyterian Church, he spent four years as a missionary in Indiana, during which time he was briefly married and swiftly widowed; in 1827, he returned to the East coast and embarked upon the portion of his career for which his contemporaries would recognize and venerate him.
In 1831, Bush accepted the Professorship of Hebrew and Oriental Literature at the University of New York, where he would remain for the next two decades of his life. While occupying this respected position, he published a stream of treatises of doubtful orthodoxy and unquestionable controversy that launched him into the grand theological conversations of the day and installed him as a figure of some debate. This trend began with the publication of his first major work, The Life of Mohammed: Founder of the Religion of Islam, and of the Empire of the Saracens (1831), which presented a portrait of Islam that was adjudged too positive by its enemies and too negative by its supporters. His subsequent volume, The Valley of Vision: or, The Dry Bones of Israel Revived (1844) presaged Zionism by half a century, while his 1844 piece, Anastasis; or the Doctrine of the Resurrection of the Body Rationally and Spiritually Considered, sparked debate because of its unorthodox denial of resurrection as a corporeal phenomenon.
These were just the sort of theological debates in which mid-nineteenth theologians delighted to engage but with which Edgar A. Poe had little traffic. He summarized his non-position towards the debate in his "Literati" sketch of Professor Bush, in which he facetiously complimented Bush's volume as one that was "lucidly, succinctly, vigorously and logically written, and proves, in my opinion, everything that it attempts — provided we admit the imaginary axioms from which it starts; and this is as much as can be well said of any theological disquisition under the sun" (Poe 6). Poe, who met and conversed with Bush at Anne Lynch's salon, must have been more intrigued by Bush's interest in mesmerism, a field that had long occupied his own imagination and pen. However, Bush's enthusiasm towards mesmerism prompted him to reach theological conclusions rather than psychological ones, and, indeed, led the Biblical scholar to his ultimate theological subject — the teachings of eighteenth-century Swedish theologian Emanuel Swedenborg. No longer a Presbyterian by creed, Bush shifted his formal alliances to the "New Church" denomination that had been founded upon Swedenborg's eschatological predictions, doctrines that Bush had publicly explored in his monthly magazine, Hierophant (1844), and which now he publicly professed and defended in his book Mesmer and Swedenborg (1847).
From this brief description of Professor Bush, readers might easily conjure a vision of the Biblicist as something of a bantam rooster — a connoisseur of controversy. Yet nearly every contemporary account of the man contravenes this interpretation and agrees that he was a remarkably mild and even humble man. Even Rufus Griswold and Poe, usually so quick to draw contradictory judgments, agreed on this point. In his sketch of Professor Bush in Prose Writers of America (1847), Griswold marveled at Bush's person, raving that "the extent and variety of his learning, his rare courage, the unpretending simplicity and the kindness of his manners, his fervent and trustful piety, insure for him respect and affection" (Griswold 356). Just a year earlier, Poe had opined in his "Literati" sketches that Bush was "one of the most amiable men in the world, universally respected and beloved [whose] frank, unpretending simplicity of demeanour, is especially winning" (Poe 7).
In addition to maintaining a reputation for simplicity while penning some of the most controversial books of his era, Bush succeeded in producing a Hebrew grammar, a translation of Swedenborg's letters (from the original Latin), and a multi-volume commentary of the Bible, the latter of which he continued to write until his final hours. In 1849, Bush embarked upon a second marriage, this time to New Yorker Mary W. Fisher, with whom he had three children. Thus reinvigorated by a belated domesticity, Bush continued to preach and lecture for an entire decade until his ill-health forced him to retire to the New York countryside in early 1859. There, after suffering for several months from gastrointestinal complications, George Bush quietly expired in the small cottage where he had hoped to live out the remainder of his retirement. After his death, Bush's friends compiled a eulogistic tribute to his memory titled Memoirs and Reminiscences of the Late Prof. George Bush: Being, for the Most Part, Voluntary Contributions from Different Friends, Who Have Kindly Consented to This Memorial of His Worth (1860).
Works Cited:
Duyckinck, E. A. and G. L., "George Bush." In Cyclopedia of American Literature: Vol 2, 226. New York: Charles Scribner, 1856.
Fernald, Woodbury M., ed. Memoirs and Reminiscences of the Late Prof. George Bush: Being, for the Most Part, Voluntary Contributions from Different Friends, Who Have Kindly Consented to This Memorial of His Worth. Boston, Massachusetts: Otis Clapp, 1860.
Griswold, Rufus Wilmot. "George Bush." In Prose Writers of America with A Survey of the History, Condition, and Prospects of American Literature, 354-56. Philadelphia, Pennsylvania: Carey and Hart, 1847.
Poe, Edgar Allan. "George Bush." In The Complete Works of Edgar Allan Poe: Volume XV: Literati & Autography, 6-7. New York, N. Y.: AMS Press, 1965.
Wilson, James Grant and John Fiske, eds. "George Bush." In Appletons' Cyclopaedia of American Biography: Vol. 1, 474. New York: D. Appleton and Company, 1888.
This capsule biography was contributed to the Poe Society by Percy Verret, Middle Tennessee State University