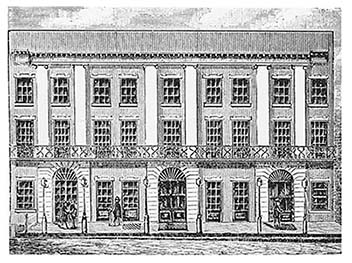 Palmo's Opera House
from the New York Clipper, August 15, 1868, p. 19
(Born: about 1806 - Died: December 8, 1852)
American theatre owner. Born in London as William Ford. As a young man, he had been a clerk at a bank, but quickly fell in love with Isabella Mordecai, who worked at the Drury Lane Theatre. He married her and emigrated to the US. He made his first appearances on an American stage in 1823 at the Chestnut Theater in Philadelphia, and in 1826 at the Lafayette Theater in New York City. His career as an actor was not successful, and the marriage apparently did not last. Nothing more is known about Isabella, and she may have died, divorced or simply separated from Dinneford. (Although there would have been no record of the marriage in the US, and such arrangements were sometimes made and broken very casually at that time, though more commonly in less civilized parts of the country, there would be a risk that a subsequent marriage might be contested, particularly once he came into money.)
He married Hannah Hatfield (1818-1895) in New York City on September 10, 1838. In 1845, he opened a restaurant in New York City called "The Byron" (at 157 Broadway). According to Charles Durang, Dinneford lived large, and tended to spend more than his income from the theaters could consistently support.
At the time of his association with Poe, Dinneford was apparently renting Palmo's Opera House, at 39-41 Chambers Street (between Broadway & Centre). The building was erected in 1844 by Ferdinando Palmo (1785-1869), who went bankrupt during the process, and after a succession of owners and purposes, including serving as a venue for minstrel shows and later as a federal court house, it was demolished in 1876. Interestingly, in 1848 it was purchased by none other than William E. Burton, who renamed it as Burton's Chamber Street Theatre.
Dinneford died in Panama, where he had been hoping to open a hotel. After the death of her husband, Hannah married James S. Hermann. At the time of her death, Hannah left an estate amounting to $15,000.
T. Allston Brown gives the name as W. E. Dinneford.