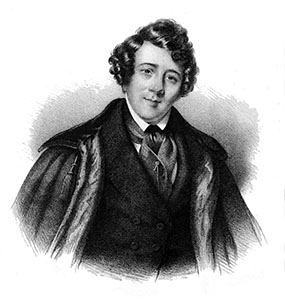 Colonel John Stephenson Du Solle
From the frontispiece to his book, Letters from Europe, Philadelphia: 1846.
(Born: April 1811 - Died: January 7, 1876)
American journalist and editor. He was the editor of the Spirit of the Times (Philadelphia, PA) and later of the Sunday Dispatch (New York) and eventually of the Sunday Mercury (New York). He was born in New York City, the son of John Du Solle and Anna Maria Shrim. (His father was born in France, and emigrated to the United States. His parents were married in August 1810.) The family moved to Philadelphia in 1814. He married Sarah Ann Ford on December 24, 1833, at Trinity Episcopal Church, in Philadelphia, PA. He died in Jersey City Heights, NJ. The date of his death appears in the American Bookseller, vol. I, no. 2, January 15, 1875, p. 56. Charles Godfrey Leland describes him as "a good-natured, rather dissipated man, who kept horses."
At pme point, he was the private secretary to P. T. Barnum. Charles Leland describes Du Solle as "a good-natured, rather disipated man" (Leland, Memoirs, 1893, 1:139).
Du Solle apparently related ridiculous stories about how Poe composed "The Raven," creating for himself an important role. These stories were at least partially recounted by Francis G. Fairfield (in 1875) and Mrs. Susan A. T. Weiss (in 1907).