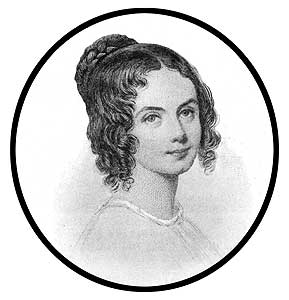 Miss Anne Charlotte Lynch
(Born: November 11, 1815 - Died: November 23, 1891)
Anne Charlotte Lynch Botta was an American pedagogue and poet whose literary salon was not only frequented by the notable figures of her century but was also widely considered by those figures to be the best of its kind in the nation. She was the second child and only daughter of Patrick Lynch and Charlotte Gray (m. 1812).
Born in Bennington, Vermont, Anne Charlotte Lynch Botta spent the majority of her childhood in Hartford, Connecticut, where her mother relocated the small family after Patrick Lynch's death by shipwreck in 1819. There, Lynch completed her early education at Hartford's best preparatory schools before joining the student body at Albany Female Academy, one of America's most progressive all-female institutions. Only sixteen years of age at the time of her matriculation, Lynch early evidenced the industry that would become characteristic of her life, excelling in her class-work while also working as a copy-editor to pay for her own classes. During these years, Lynch's writing received recognition both in school and in the press, and she published several of her poetic school compositions in magazines as a means of further off-setting her educational expenses.
Upon her graduation in 1834, Lynch embarked upon a succession of pedagogical posts, first teaching for several years at the Academy itself before then working as a private governess on Shelter Island, New York, a tutor in Providence, Rhode Island, and a composition instructor at New York City's Brooklyn Academy of Young Ladies. These years also proved fruitful for Lynch's writing career, for while living in relative seclusion on Shelter Island, Lynch penned the self-reflective "Diary of a Recluse," which Edgar A. Poe would later remark was "the best specimen of her prose manner and ability," an ability he held to evidence "unusual talent" (Poe 116). Moreover, during her residence in Providence, Lynch published The Rhode Island Book (1841), a compilation of writings by prominent Rhode Islanders, including Sarah Helen Whitman (later fiancée and posthumous defender of Poe), with whom Lynch developed a lasting friendship. Together, Lynch and Whitman established themselves at the heart of Providence's literary society, each hosting their own and attending the other's salon. In later years, the two maintained an active correspondence in which they discussed the various famous figures in their circle, including — most noticeably — Poe himself.
Having relocated to New York City in 1845, Lynch immediately resumed organizing literary soirées, and these meetings instantly became a favorite haunt of the city's best minds. Among the hundreds who attended Lynch's salon during these early years were Catharine Maria Sedgwick, Evert Duykinck, Lydia Maria Child, and Horace Greeley in addition to the combustive quartet of Elizabeth Ellet, Frances S. Osgood, Margaret Fuller, and Poe. Indeed, it was through Lynch's salon that Poe achieved entry into the wider society of New York City's Literati, regarding whom he would later write such poignant sketches. During this era, Poe, fresh off the success of "The Raven," often stood before Lynch's many guests reciting that gloomy poem in sepulchral tones as Mrs. Osgood and others gazed in awe upon his countenance, enraptured by its, his voice's, and his poem's melancholy.
In the early 1850s, Lynch met married Vincenzo Botta (1818-1894), an Italian scholar and professor of philosophy and Italian at the University of New York. They married in 1855. Lynch's salon rose to its pinnacle in her new married home, which Emerson famously described as the "house of the expanding doors" (47). Indeed, after her marriage, Lynch greatly expanded the scope of her guest list, and visitors of her salon in this era might encounter not only such famed American authors as Herman Melville, Louisa May Alcott, Ralph Waldo Emerson, and William Cullen Bryant, but also political dignitaries, painters, educators, and even international artists such as Frederic August Bartholdi, William Makepeace Thackeray, and Oscar Wilde. Attendees of the salon imputed its success wholly to Lynch's own inimitable personality and to the atmosphere of vibrant intellectualism that she deliberately cultivated, with one attendee remarking:
"[Lynch] had about her a goodly company of choice spirits, artistic and literary — a delightful circle, gathered she hardly knew how; for she was far from realizing the subtle attraction, the peculiarly gentle magnetism, of her own personality. This circle widened and widened, till from it and for it she formed the most brilliant and successful salon I have ever known in America. They who had the entrée to those weekly reunions. . . must remember them with grateful pleasure mingled with keen regret. For all thus once favored must live in a light that can never fade, one central, living picture — the dainty yet dignified figure of a peerless hostess with an honest welcome in her soft blue eyes." (Greenwood qtd. in "Memoirs" 42-43)
Indeed, though living in an age in which public feuds were common and despite mingling with many who derived vicious pleasure from slandering each other in the press, Lynch emerged universally adored by those who knew her. Shortly after meeting Lynch, Emerson addressed his supreme gratitude to her in heightened terms, writing "You were such a good angel to me in New-York, that I have wished, every hour since I came home, to say to you that I know well how rare such goodness is, and that I prize it at its height" (qtd. in Memoirs 177). Likewise, Catharine Maria Sedgwick, matriarch of American letters, described Lynch as possessing "that aristocracy which supersedes all others — that to which prince and peasant instinctively bow" (qtd. in Hart 345) and further praised her for her dignified manner and personal cultivation.
In addition to hosting literary society for over forty years, Lynch also made moderate contributions to literature herself. She included only two of her own poems in her anthology The Rhode Island Book (1841), but by the end of the decade she had written enough verse to fill an entire volume, which she published as Poems in 1849. Poe believed Lynch's poetry to be superior to her prose. While he found much in her verse that he felt could be improved, he expressed nearly unqualified appreciation of her poems "The Ideal" and "The Ideal Found" in his "Literati" sketch of Lynch, remarking that "in modulation and vigor of rhythm, in dignity and elevation of sentiment, in metaphorical appositeness and accuracy, and in energy of expression, I really do not know where to point out anything American much superior to them" (117). Lynch's work was widely sought by gift books of the time and dozens of her works appeared in the most popular ones of the 1840s and 1850s, such as The Gift, The Diadem, and The Opal. While Lynch maintained a steady output of work across her career, the general consensus among her friends was that Lynch invested herself so thoroughly in the support of others' art as to be prevented from seriously attending to the creation of her own, a trait Poe hinted at in his sketch, describing her as being "capable even of martyrdom" to her sense of duty towards her friends. N. P. Willis, who had employed Poe in 1844 and also held the distinction of having first published "The Raven" in his magazine, the New York Evening Mirror, gently chided Botta — whom he nicknamed "Lynchie" — on this same count in his correspondence with her, remarking:
You keep enjoying this planet. Nobody lives more while about it. I only wish you would now and then hold the burning-glass of your genius still long enough to burn a hole. Genius you have; concentration you have no time for. Tell us if that smile of yours, which you ought not to die without seeing, is as bewitching as ever. (qtd. in Memoirs 173)
Even in their slight criticisms, Lynch's friends — including Poe himself — could not find the heart to grow severe in their judgment of her sparkling self.
Lynch's last major publication, The Handbook of Universal Literature, appeared in 1860 and then again, with major expansions, in 1885. This work became a staple textbook in many nineteenth-century college classrooms and represented a return to Lynch's early passion for pedagogy. Indeed, this interest reasserted itself insistently in her final decades, during which time she often provided language instruction to disadvantaged young women and children.
Finally, in the spring of 1891, while planning the festivities for her silver wedding anniversary, Lynch contracted a cold that worsened into pneumonia and led to her death on March 23, 1891. Upon her death, Vincenzo Botta was inundated with hundreds of letters of condolence, which he decided to compile into a work of memorial. By its release in 1894, Memoirs of Anne C. L. Botta: Written by Her Friends had expanded to encompass biographical sketches and poetic offerings by over fifty of her friends, who collectively concluded that Lynch was not only a genius and a true friend, but also — as one friend titled his recollections of her — "A Perfect Woman" (Botta 158).
Works Used for Research
Botta, Vincenzo, ed. Memoirs of Anne C. L. Botta Written by Her Friends with Selections from her Correspondence and from her Writings in Prose and Poetry. New-York: J. Selwin Tait & Sons, 1893.
Duyckinck, E. A. and G. L., "Anne Charlotte Botta." In Cyclopedia of American Literature: Vol 2, 627-28. New York: Charles Scribner, 1856.
Emerson, Ralph Waldo. Ralph Waldo Emerson to Anne Charlotte Lynch Botta, December 23, 1868. In The Letters of Ralph Waldo Emerson: Vol. Six, edited by Ralph L. Rusk, 47. New York: Columbia University Press, 1939.
Fitzsimons, Eleanor. "'The Paradise for Women': How Oscar Wilde Was Embraced by the Women of America." Comparative American Studies: An International Journal 14, no. 1 (2016): 49-61.
Griswold, Rufus Wilmot, ed. "Anne C. Lynch." In The Female Poets of America, 232-40. Philadelphia: Carey and Hart, 1844.
Hart, John S. "Anne Lynch." In The Female Prose Writers of America, 344-53. Philadelphia: E. H. Butler & Co., 1855.
Hatvary, George Egon. "Anne Charlotte (Lynch) Botta." In Antebellum Writers in New York: Second Series, edited by Kent P. Ljungquist. Dictionary of Literary Biography Vol. 250. Detroit, MI: Gale, 2002.
[Lynch] Botta, Anne C.. Hand-book of Universal Literature, from the Best and Latest Authorities: Designed for Popular Reading and as a Text-Book for Schools and Colleges. Boston: Houghton, Mifflin and Company, 1885.
Lynch, Anne C. Poems. New York: George P. Putnam, 1849.
Lynch, Anne C. The Rhode-Island Book. Providence, RI: H. Fuller, 1841.
Poe, Edgar Allan. "Anne C. Lynch." In The Complete Works of Edgar Allan Poe: Volume XV: Literati & Autography, edited by James A. Harrison, 116-18. New York, N. Y.: AMS Press, 1965.
Quinn, Arthur Hobson. Edgar Allan Poe: A Critical Biography. New York, NY: D. Appleton-Century, 1941.
Stern, Madeleine B. "Anne Charlotte (Lynch) Botta." In Antebellum Writers in New York and the South, edited by Joel Myerson. Dictionary of Literary Biography Vol. 3. Detroit, MI: Gale, 1979.
This capsule biography was contributed to the Poe Society by Percy Verret, Middle Tennessee State University