Notes:
All material in this edition is protected by copyright, exclusively held by the estate of the author, David K. Jackson. Permission has been obtained by the Poe Society of Baltimore from the author's estate to provide this electronic edition for academic and research purposes only. The Poe Society of Baltimore asks all users of this material to respect these copyrights, and not to exceed what would typically be considered as fair use (generally interpreted as selective quotations and/or paraphrasing of only a small percentage of the total material, and with the appropriate attribution and citation).
Most copies of the book were signed by David K. Jackson and J. H. Whitty. Here are the signatures from one such copy: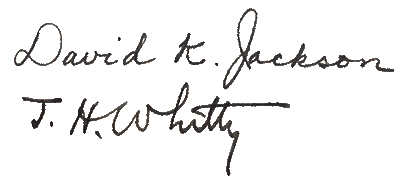 A note on the copyright page states that:
Of this edition 500 copies have been printed, of which only 325 copies are for general circulation.
The dedication page reads:
TO THE
MEMORY OF MY FATHER
The father of David Kelly Jackson was also named David Kelly Jackson (1882-1932), but as he was deceased by 1934, Jackson was not using the designation of "Jr."